Website Privacy Policy
NPAF is pleased to share our privacy policy as it relates to our publicly available materials and online services.   This document details what personal information, if any, we collect from our public viewers and those accessing our materials and services, and how our organization uses information we have access to.   This policy also covers how you can connect with us should you have questions or concerns about our practices and policies.
Website Privacy Policy Notice
Effective Date: 09/01/2019
National Patient Advocate Foundation ("NPAF," "we," "us" or "our") is committed to ensuring that your privacy is protected when you connect with our materials and services. NPAF is pleased to share our privacy policy as it relates to your use of our websites, including https://www.patientadvocate.org (collectively, the "Sites").   This Website Privacy Policy ("Website Privacy Policy" or "policy") provides an explanation as to what happens to any personal data that you provide to us, or that we collect from you when you engage with our web materials and online properties. This policy also covers how you can connect with us should you have questions or concerns about our practices and policies.  By using our Sites, you acknowledge you have read and understood the terms and conditions of this policy. If you do not agree to the terms and conditions of this policy, please do not use our Sites.
Please note that your use of our Sites is also governed by our Terms of Use.
PLEASE NOTE THE ARBITRATION PROVISION SET FORTH BELOW, WHICH MAY, EXCEPT WHERE AND TO THE EXTENT PROHIBITED BY LAW, REQUIRE YOU TO ARBITRATE ANY CLAIMS YOU MAY HAVE AGAINST NPAF ON AN INDIVIDUAL BASIS. ARBITRATION ON AN INDIVIDUAL BASIS MEANS THAT YOU WILL NOT HAVE, AND YOU WAIVE, THE RIGHT FOR A JUDGE OR JURY TO DECIDE YOUR CLAIMS, AND THAT YOU MAY NOT PROCEED IN A CLASS, CONSOLIDATED, OR REPRESENTATIVE CAPACITY.
Information We Collect
We collect the following information from and about you when you use our Sites:
Details of your visits to our website and the resources that you access, including, but not limited to, traffic data, location data, weblogs and other communication data.
Information that you choose to provide by filling in forms on our website, such as when you register a request for information or choose to subscribe to a NPAF distribution list.
Information provided to us when you choose to communicate with us for any reason.
Use of Cookies
On occasion, we may gather information about your computer or other device for our services. Such information will not identify you personally; it is statistical data about our visitors and their use of our site. This statistical data does not identify any personal details whatsoever.
Similarly to the above, we may gather information about your general use of our Sites by using a cookie file.  A cookie is a small file which asks permission to be placed on your computer's hard drive. We use this analytical information solely to track website usage, and no individual user information is gathered in this process. In particular, we use Google Analytics to measure how you interact with our Sites. To learn more about Google Analytics' privacy practices and opt-out mechanisms, please visit the Google Analytics Security and Privacy Principles page at https://support.google.com/analytics/answer/6004245?hl=en. Google also provides a complete privacy policy and instructions on opting-out of Google Analytics at https://tools.google.com/dlpage/gaoptout.
All computers have the ability to automatically accept or decline cookies. This can be done by activating the setting on your browser which determines how to deal with cookies. Please note that should you choose to decline cookies, you may be unable to access particular parts of our website.
Use of Your Information
The information that we collect and store relating to you and your web activity is primarily used to enable us to provide quality services to you. In addition, we may use the information for the following purposes:
To provide you with information specifically requested from us, relating to our products or services.
To provide information on other resources which we feel may be of interest to you, if and only if you have consented to receive such information.
To meet our contractual commitments to you.
To notify you about any changes to our website, such as improvements or service/product changes, that may affect our service, if you have selected such notifications.
Collection and Use Of Information From Children
Our Sites are not intended for children under the age of 13. We do not knowingly collect personal information from children, and none of our services are designed to attract children. In the event that we learn that a person under the age of 13 has provided personal information to us, we will delete such personal information.
Storing & Securing Your Personal Data
To prevent unauthorized access, maintain data accuracy, and ensure the correct use of information, we strive to maintain physical, electronic, and administrative safeguards. The transmission of information via the internet, however, is not completely secure and therefore we cannot guarantee the security of data sent to us electronically and transmission of such data is therefore entirely at your own risk. Where we have given you (or where you have chosen) a password so that you can access certain parts of our site, you are responsible for keeping this password confidential. If we learn of a security breach, we may attempt to notify you electronically so that you can take appropriate protective steps. By providing personal information to us, you agree that we can communicate with you electronically regarding security, privacy and administrative issues relating to your use of the Sites. We may post a notice via our Sites if a security breach occurs. We may also send an email to you at the email address you have provided to us in these circumstances. Depending on where you live, you may have a legal right to receive notice of a security breach in writing.
Disclosing Your Information
Where applicable, we may disclose your personal information to any official member within our nonprofits corporate structure, as it is necessary to provide you with the best service and customer service addressing your requests. We will also disclose your personal information to third parties, only in the following circumstances:
Where a service provider, agent or independent contractor helps us maintain our services and provide other administrative services to us.
In the course of any reorganization process including, but not limited to, mergers, acquisitions, and transfers of any or all of our assets to a third party.
Where we are legally required to disclose your information.
To assist fraud protection and minimize credit risk.
Please be advised that we do not reveal information about identifiable individuals to our donors, grant-providing organizations or partners, but we may occasionally provide them with aggregate statistical information about our visitors.
We do not share your phone number with outside organizations or individuals without your express verbal or written permission.
International Data Transfers
We are based in the US. If you choose to provide us with information, please understand that your personal information may be transferred to the US and that we may transfer that information to our affiliates and subsidiaries or to other third parties, across borders, and from your country or jurisdiction to other countries or jurisdictions around the world. If you are visiting from the EU or other regions with laws governing data collection and use that may differ from US law, please note that you are transferring your personal information to the US and other jurisdictions which may not have the same data protection laws as the EU. We put in place appropriate operational, procedural and technical measures in order to ensure the protection of your personal information. You acknowledge you understand that by providing your personal information: (i) your information will be used for the uses identified above in accordance with this Privacy Policy; and )ii) your information may be transferred to the US and other jurisdictions as indicated above, in accordance with applicable law.
Third Party Links and Social Media Plug-Ins
You might find links to third party websites on our Sites. These websites should have their own privacy policies which you should check. We do not accept any responsibility or liability for their policies whatsoever as we have no control over them.
Our Sites use the following social media plug-ins: Facebook, YouTube, Instagram and Twitter. The plug-ins can be identified by the social media buttons marked with the logo of the provider of the respective social media networks. We have implemented these plug-ins using a 2-click solution, which means that when you use our Sites, Information will not initially be collected by the providers of these social media plug-ins. Only if you click on one of the plug-ins will your Information be transmitted. By activating the plug-in, information is automatically transmitted to the respective plug-in provider and stored by them. We neither have influence over the Information collected and processing operations conducted by the providers, nor are we aware of the full extent of Information collection, purposes, or the retention periods. Further details on the purpose and scope of information collection and its processing by the plug-in provider can be found in the respective privacy policies of these providers, where you will also find further details on your rights and options for privacy protection.
Facebook Inc.: https://www.facebook.com/privacy/explanation.
Google LLC: https://policies.google.com/privacy.
Instagram:  https://help.instagram.com/519522125107875
Twitter: https://twitter.com/en/privacy
Access To Information
Should you wish to receive details that we hold about you, or to update such information, please contact us using the contact details below.
Dispute Resolution and Agreement To Arbitrate
Except where and to the extent prohibited by law, by using the Sites, you and NPAF agree that, if there is any controversy, claim, action, or dispute arising out of or related to your use of the Sites or the breach, enforcement, interpretation, or validity of this policy or any part of it ("Dispute"), both parties shall first try in good faith to settle such Dispute by providing written notice to the other party describing the facts and circumstances of the Dispute and allowing the receiving party thirty (30) days in which to respond to or settle the Dispute. Notice shall be sent to:
Us, at National Patient Advocate Foundation, Compliance Department, 421 Butler Farm Road, Hampton, VA 23666 or
You, at the address we have on file for you.
Both you and NPAF agree that this dispute resolution procedure is a condition precedent that must be satisfied before initiating any litigation or filing any claim against the other party. IF ANY DISPUTE CANNOT BE RESOLVED BY THE ABOVE DISPUTE RESOLUTION PROCEDURE, YOU AGREE THAT THE SOLE AND EXCLUSIVE JURISDICTION FOR SUCH DISPUTE WILL BE DECIDED BY BINDING ARBITRATION ON AN INDIVIDUAL BASIS. ARBITRATION ON AN INDIVIDUAL BASIS MEANS THAT YOU WILL NOT HAVE, AND YOU WAIVE, THE RIGHT FOR A JUDGE OR JURY TO DECIDE YOUR CLAIMS, AND THAT YOU MAY NOT PROCEED IN A CLASS, CONSOLIDATED, OR REPRESENTATIVE CAPACITY. Other rights that you and we would otherwise have in court will not be available or will be more limited in arbitration, including discovery and appeal rights. All such disputes shall be exclusively submitted to JAMS (www.jamsadr.com) for binding arbitration under its rules then in effect, before one arbitrator to be mutually agreed upon by both parties.
The arbitrator, and not any federal, state, or local court or agency, shall have exclusive authority to resolve any dispute arising under or relating to the interpretation, applicability, enforceability, or formation of this policy, including any claim that all or any part of this policy is void or voidable.
Choice Of Law and Choice Of Forum
This policy has been made in and shall be construed in accordance with the laws of the Commonwealth of Virginia, without giving effect to any conflict of law principles. Any disputes or claims not subject to the arbitration provision discussed above shall be resolved by a court located in the Commonwealth of Virginia and you agree and submit to the exercise of personal jurisdiction of such courts for the purpose of litigating any such claim or action.
How We Respond To Do-Not-Track Signals
At this time our Sites do not recognize automated browser signals regarding tracking mechanisms, which may include "Do Not Track" instructions.
Your California Privacy Rights
California Civil Code Section 1798.83 permits visitors to our Sites who are California residents to request certain information regarding our disclosure of personal information to third parties for their direct marketing purposes. We do not share personal information with third parties for their direct marketing purposes.
Contacting Us
We welcome any questions, comments or requests you may have regarding this Privacy Policy. Please do not hesitate to contact us via email at privacy@patientadvocate.org, by calling 757-952-0589, or by writing to National Patient Advocate Foundation, Attn: Privacy, 421 Butler Farm Rd, Hampton, VA 23666.
Changes to this Website Privacy Policy
If we decide to change our Website Privacy Policy, we will post those changes on this page and update the Effective Date above so that you are always aware of what information we collect, how we use it, and under what circumstances we disclose it. You will be notified of any material changes to this policy via a posting on the Sites.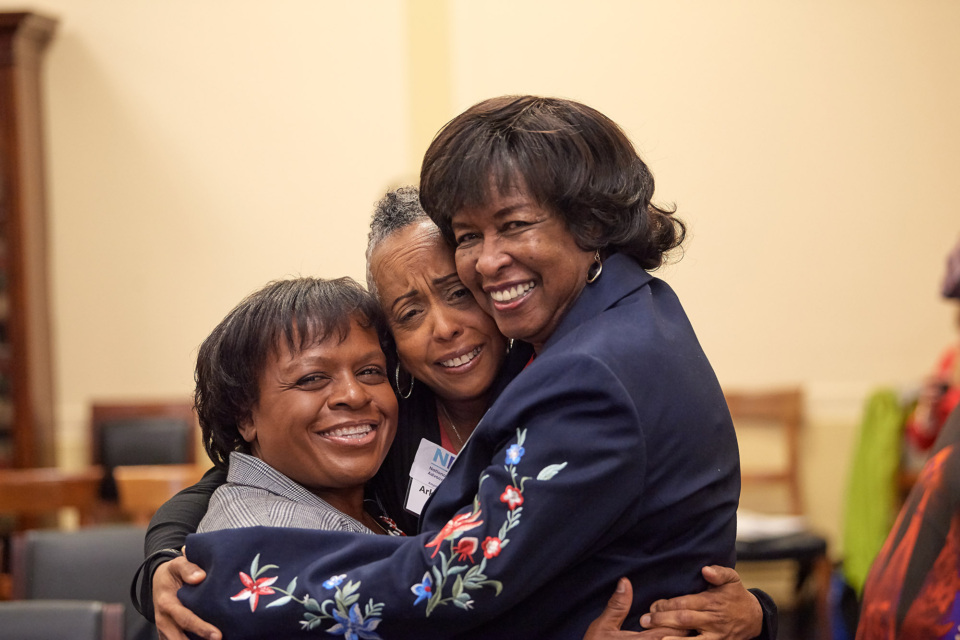 Story Slam: Stories About Trust
Come support our story-tellers as they bring you on their patient journey, with a focus on stories about trust.