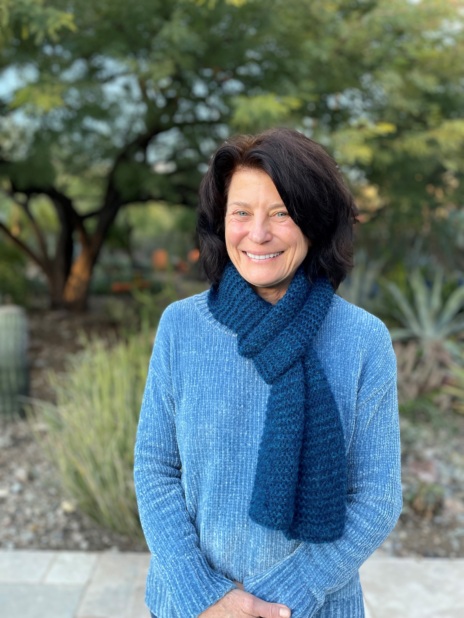 May Volunteer Spotlight: Cynthia Buness
For our May volunteer spotlight, we are recognizing a dedicated volunteer, Cynthia Buness, from Paradise Valley, AZ.
---
Cynthia began volunteering for NPAF in 2013 when another volunteer introduced her to us. She attributes NPAF to launching her into the world of patient advocacy. Using her lived experience as a caregiver for her daughter, she advocates on behalf of patients in the rare disease liver community, many of them children, to make sure they have access to therapies and information that can improve their quality of life. She is a passionate patient advocate and a member of NPAF's advisory group. Learn more about Cynthia's tireless advocacy work below.
Describe the advocacy work that you're doing in your community and what motivated you to start.
My "community" is comprised of patients with a rare liver disease called primary sclerosing cholangitis (PSC). PSC is an incurable, progressive disease of the liver. Many patients with PSC will eventually die or require liver transplantation due to complications, such as progression to end-stage liver disease and development of bile duct cancer. It is usually associated with inflammatory bowel disease (IBD), primarily ulcerative colitis (UC).
In 2012, my 14 year old daughter was diagnosed with PSC and UC. My husband and I were told that the disease had no treatment, that our daughter would need a colectomy, and that she would progress to liver failure in 10-12 years. We found a story in a Stanford magazine about a Stanford pediatric doctor who had found that vancomycin, an existing generic antibiotic, when taken orally would resolve symptoms of this disease. We started her on this therapy and she immediately responded; both her liver and colon normalized and have remained so now for 10 years as long as she takes this drug.
My daughter's successful treatment of her PSC with oral vancomycin motivated me to make this treatment available to other PSC patients. I learned that even though this therapy was effective in resolving symptoms of PSC and stopping disease progression, it was only used by a handful of doctors. I connected with a Mayo Clinic physician who was known as the leading expert on this disease, and had fortuitously just moved to my city. He began mentoring me, and I attended multiple gastroenterology and hepatology medical conferences with him in order to educate myself in these areas of medicine.
This doctor explained to me that to get a therapy accepted it needed to be proven effective in a randomized placebo controlled clinical trial. To get funding for a trial you need data. We had neither. Working with doctors from Mayo Clinic, Stanford, UCLA, Yale, and other medical institutions, we first tackled the lack of data, and then began writing grant applications. Over the next years, we published five journal papers and wrote multiple grant applications. Our application for an adult clinical trial was funded by the FDA under the Orphan Drug Act and is currently enrolling at Mayo Clinic sites. I also co-wrote three grants for pediatric clinical trials that have not yet been funded and another clinical trial that will be enrolling soon in Milan, Italy.
I also spend much of my time educating patients on this disease and their treatment options—these patients usually find me on PSC specific social media cites. I now have a database of physicians who are willing to consider this therapy and to whom I refer patients. I am now recognized by PSC patients as an advocate who is willing to help them at any level, including speaking with them or their physicians, and even helping them with insurance appeals for denied medication or procedures.
NPAF launched me into the world of advocacy. I am now also Global Liver Institute Pediatric and Rare Liver Disease Counsel and Chair of Research Working Group, and Parent Leader for Stanford University, Autoimmune Liver Disease Network for Kids (A-LiNK).
What advice would you give to other volunteers who would like to do something similar?
Mother Teresa once said, "I alone cannot change the world, but I can cast a stone across the waters to create many ripples." Casting the first stone is the difficult part, you just need to find the stone and the water in which to cast it. Educating yourself on the subject matter is the first step.
Since you've been a volunteer with NPAF, what are three things you are most proud of?
NPAF has helped me understand the importance of sharing my lived experience and amplifying the experiences of other patients and families to ensure they get the care and therapies they deserve. First, I'm proud that the Children's PSC Foundation funded the original study of oral vancomycin at Stanford.  However Stanford's data were not published or shared with the medical community, therefore this therapy was little known. Through my collaborative work, this data and the success of this therapy has become known to the medical community worldwide.
Over 40 papers have been published on the benefits of oral vancomycin (OV) therapy for PSC, and dozens of other papers refer to OV as a promising therapy. Working with a colleague at the Children's PSC Foundation, I also initiated the groundwork for 4 new clinical studies — 1 in Italy, 2 in UK and 1 in the US, and another in the works. The one in Italy will have collaborating physicians in 4 countries.
Second, hundreds of patients, most of them children, have benefited and their lives have been saved.
Third, I have helped to break down institutional silos by opening communication between clinicians and helping them to share clinical practices. Further by educating patients on their disease and therapeutic options, I empower them to better manage their own care.