Back-to-School: Students Rethink Health Literacy
Rice University students take on youth health literacy through their accessible platform, "The Healthcare Navigator"
Nearly a year ago, Kayla Grimes signed up to volunteer with NPAF after finding us online, stating she instantly fell in love with our purpose and the impact that we have on patients.
Since she joined, we've had the pleasure of getting to know Kayla, and more recently, her team, and learning more about an idea she first had in her position as director of project operations at the American Medical Women's Association (AMWA) Rice University chapter. An aspiring healthcare administrator, she noticed a lack of significant experience, among her peers, in managing healthcare matters independently from their parents or guardians. As she conversed with friends and classmates regarding health insurance and healthcare in general, their responses confirmed her suspicions: the typical college student is not equipped to handle healthcare-related affairs alone.
Determined to take action, in the following months, Kayla sought to find a solution for college students to get educated on healthcare and become an active, health literate patient. She decided on developing a website ("The Healthcare Navigator") and began recruiting a core team to help make this website a reality. We recently connected with Kayla and her team of research consultants (Arunima, Cynthia, and Caroline) to have them share more about this important project they're undertaking.
***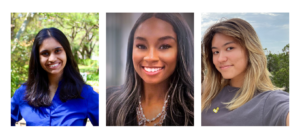 Pictured left to right: Arunima Jaiswal, Kayla Grimes, Cynthia Deem (not pictured: Caroline Huynh)
Kayla: When I started interviewing people for the team, I was highly selective and looked for four essential characteristics in the candidates: integrity, ambition, perseverance, and a heart for serving others… my team is a great example of that! We all have different experiences in healthcare, and while we all are passionate about medical care, our interests lie in different facets like healthcare administration, medical research and practicing medicine. Because of this diversity, we can bring different perspectives into the research work and create the best experience for our users.
Describe the goals and objectives of this project. How do you see this project making an impact?
Kayla: The goal of "The Healthcare Navigator" is to offer college students an easily accessible platform that delivers crucial information about healthcare in the US to individuals with limited experience interacting with the healthcare system.
This project sets to prioritize transparency and remove the blurriness of the US healthcare system. I think this is how we may improve health literacy among America's youth. "The Healthcare Navigator" will serve as an enabler for college students to become active participants in their healthcare — rather than just passively going along with what providers tell them to do— by offering clear instructions on effectively navigating our health care system, especially for those new to it.
This website will be informed by extensive surveys and comprehensive market research and will present invaluable insights across six pivotal areas: Healthcare Insurance, Provider Selection, Patient Rights, Preventive Care, Levels of Care, and Personalized Resources.
Why do you think it's important for young adults to take a more active role in their health?
Arunima: I think young adulthood is when we form healthy or unhealthy habits such as exercising, eating healthy, or following up on our health on a regular basis. The precedents young adults set for themselves now last for lifetime.
Cynthia: Actively participating in and staying informed about your health and options to stay healthy is possible through engaging in discussion with healthcare providers, looking up information on your own and especially understanding your medical history, so healthcare providers can tailor their knowledge to help you. This is crucial as we are now expected to create a foundation for our future health on our own.
For new providers, I would remember that medicine is continually updating, so you should always stay informed and develop communication skills as well as empathy to make sure your patients are informed and comfortable during their visit and their concerns are validated and solved. Overall, the more informed young adults are about their health (and healthcare in general), the better equipped they will be to navigate the challenges that lie ahead, benefitting not only them, but the healthcare system as a whole to allow for more efficient and effective healthcare.
What healthcare gaps do you aim to address through this project?
Caroline: As I matured, my grasp of my parents' native language, Vietnamese, gradually faded. While I possessed only basic conversational Vietnamese, they were similarly limited in basic conversational English. Unlike many who learn about healthcare from their parents, I was never taught about it by my mom or dad. With this project, I aspire to bridge the gap for those who lacked the opportunity or means to learn, offering them a convenient and efficient pathway to navigate the healthcare system.
Arunima: I hope this website will address the lack of trusted information available to people like me—new consumers of healthcare. Reliable information about insurance, healthcare, and general wellbeing are often difficult to find, whether it's because of misinformation online, or information scattered in a variety of sources. Furthermore, information regarding health care tends to be targeted towards insured individuals and often doesn't provide resources to individuals who are transitioning from being a dependent or relying on an institution's required insurance to providing their own insurance, which I hope to address in this project.
What initially inspired you to embark on this project, and what continues to fuel your motivation?
Caroline: Originally, I was drawn to engage in this project by my desire to gain more experience in web design. Moreover, I held the belief that this opportunity could be a rich source of education for myself, while also significantly impacting a large demographic akin to my own experience. As my connection with the team deepened and I delved further into our mission, my motivation to persist grew stronger. I'm genuinely passionate about our project's objectives and I envision it as a valuable offering to those who struggle to navigate the complexities of healthcare.
Cynthia: Undertaking this project was motivated by my own realization of the gaps in my knowledge of the healthcare system. While I've benefited from the safety net of my parents' insurance, there's an upcoming transition where I'll be responsible for my own healthcare decisions. I believe many share this sentiment—desiring clarity before navigating such a complex system. The motivation that keeps me working on this project is knowing that eventually our project will culminate in a comprehensive website that will be useful for anyone who comes across it and that satisfaction will be incredibly rewarding.