Advocacy Curriculum
Patient advocates can be a powerful force for change. We developed these educational resources for those who want to develop their skills in advocacy and bring a greater depth of understanding to the work they do to promote person-centered care.
Just like the field of patient advocacy, our curriculum covers a world of pursuits. As learners take these courses, they will engage diverse topics such as communicating with health care providers, preventing and addressing financial toxicity, and interacting with the media. We encourage patients and caregivers, as well as interested health care providers and stakeholders to take this exciting course.
Introduction to Patient Advocacy
Setting the stage for this Patient Advocacy Curriculum, Gwen Darien, executive vice president of patient advocacy, engagement and education, leads users through the field of Patient Advocacy and the important role you have embarked on as a Patient Advocate. Users will learn the types of advocacy supported by NPAF as well as learn how NPAF engages volunteers to promote person-centered care.
Ethics and Principles of Health and Patient Advocacy
Advocating for the health, safety and rights of patients requires an understanding of the ethical obligations and political conflicts patient advocates must traverse. Led by Gwen Darien and Mary Scroggins, this course will explore the considerations advocates must factor in their decision making as healthcare change agents.
Core Patient Advocacy Skills: Turning Anecdote into Evidence
Led by Christine Wilson, vice president of advocacy communications and marketing, this third module will explore the field of Narrative Medicine and discusses how NPAF works to empower and amplify patient voices toward co-creating health for both patients and their health care team.
We hope that this training will help you to be an active participant in your health decision-making, along with giving you the tools to advocate on behalf of others.
Media Advocacy, defined as the strategic use of mass media to advance public policy initiatives, plays a critical role in the political landscape and can be a force for change when it comes to advocacy and health care policy. Caitlin Donovan, senior director of public relations, discusses the impact of engaging the different forms of media in your journey as patient advocates.
In the follow-up to module 3, Christine Wilson, vice president of advocacy communications and marketing, leads learners through this insightful writing workshop on narrative medicine. This module further explores the field of narrative medicine and challenges learners to critically explore the power of their voice even in difficult conversation.
Health Equity and Utilizing the National Financial Resource Directory
You've learned that as advocates, our mission is to amplify the voices of those who face health inequities in our society. While our focus is on health care and the suffering caused by illness and disability, we must recognize that much deeper, broader inequities around social needs are often the root causes of these problems. In this module, led by Shonta Chambers, executive vice president of health equity initiatives and programs, learners will understand the historical context of the social determinants influencing health and how Patient Advocate Foundation works to address these social needs.
"I came into advocacy so I could change the outcomes and experiences of patients who come after me." -Gwen Darien
Co-Creating Programs, part 1
NPAF works closely with organizations and advocates with deep roots in their communities to develop programs and initiatives. This co-created approach is based on respect for their understanding of the people they serve and a belief that we always can learn at least as much from our community partners as we bring to them. Led by Gwen Darien and Chris Wilson, this session will use examples to discuss how we develop these programs.
Objectives of this module include:
• Understand what it means to "co-create" a program
• Explore the steps to identify partners
• Examine how to implement co-created partnerships
• Review a case-study
• Think about the lessons learned from co-created programs
Co-Creating Programs: A Case Study with Sisters Working it Out
This next module highlights the partnership between National Patient Advocate Foundation and grassroots organization Sisters Working it Out (SWIO). Founded in 2001 by Dr. Monica Peek, SWIO's mission is to serve as a catalytic force in the elimination of breast cancer disparities in the Chicagoland area. This is accomplished through programs that educate and empower women of color as well as connect them to quality preventive health services. SWIO provides compassionate care and support to women across the cancer continuum from outreach and screening through survivorship.
During this module, you will learn:
• What is advocacy in-place?
• The founding of SWIO
• Impact, how is it measured?
• How does community advocacy lead to system change?
Co-Creating Programs, part 2
In this final module of our Co-Creating Programs series, Gwen Darien is joined in conversation by Candace Henley, founder of Blue Hat Foundation. After battling and surviving colorectal cancer, Candace founded Blue Hat Foundation in 2010, whose mission is to educate, raise awareness, and provide resources to free screenings for minority underserved communities. As a champion advocate for education and empowerment, Blue Hat Foundation has partnered with organizations to help spread their message of awareness and advocacy. Henley says, "We have formed friendships and partnerships with amazing people who want to see me succeed and believe in our mission."
Goals for this module include:
• Define what it means to nurture and sustain a partnership
• Examine a NPAF case study of "co-creating" programs
• Discuss the elements and importance of "co-creating" programs
"In every case, opening the doors to letting people tell their stories, helping them think about different ways to do this, has produced powerful, rich, compelling results."
Reading and Writing Illness Narratives
In this module, author and psychotherapist Kathy Conway leads learners through the powerful journey of writing illness narratives. Learners will reflect on their own experience with illness and respond to prompts intended to invoke meaningful written narratives that promote personal healing and storytelling.
How to Best Tell Your Medical Story
Many patients often feel challenged and intimidated by the small amount of time allotted for interactions with providers. Having the skills to efficiently articulate what matters most to you or your loved one is a key skill in self advocacy. In this module, led by author, Columbia University lecturer and lawyer Olga Lucia Tores, learners will understand what it means to be a "professional patient" and effectively tell your medical story.
Radical Listening: Space, Time and Person
The first two modules of this curriculum have focused on key skills in written and verbal storytelling. To round out the series, provider and scholar Dr. Rita Charon leads learners through the skill of active "radical" listening.
During my brother's illness, we were so focused on the disease, we never heard what mattered to him.

Faye Hallowell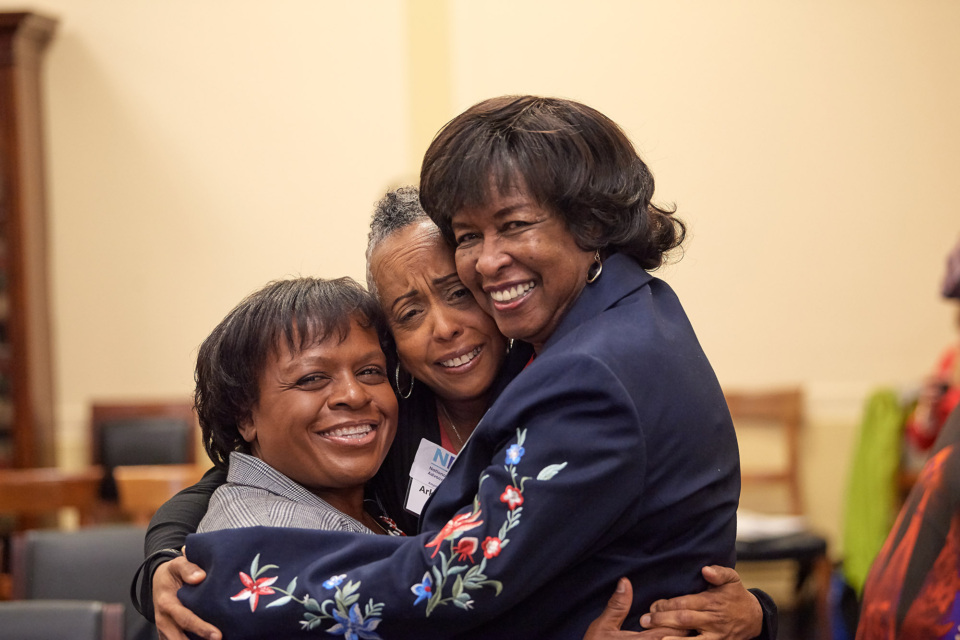 Story Slam: Stories About Trust
Come support our story-tellers as they bring you on their patient journey, with a focus on stories about trust.