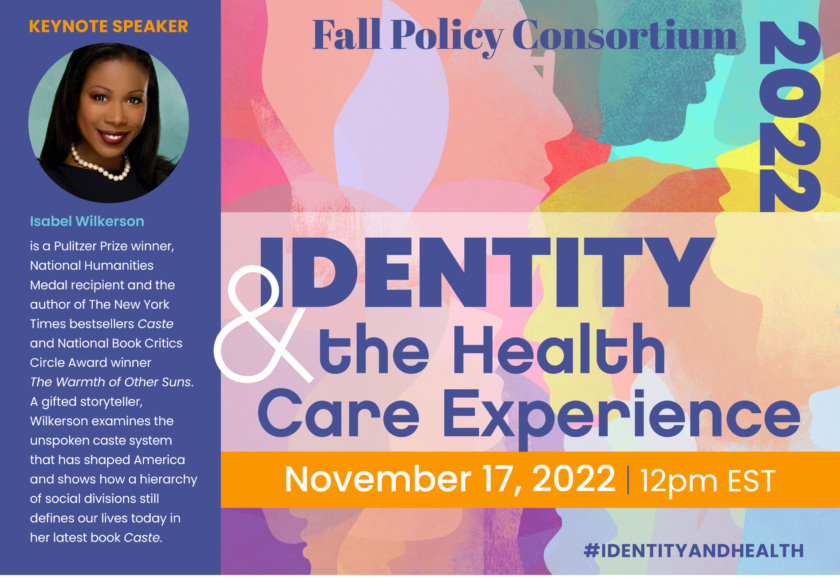 Identity and the Health Care Experience
The 2022 Fall Policy Consortium, "Identity and the Health Care Experience," featured dynamic speakers and engaging conversation.
By Christine Wilson
---
We knew when we chose "identity" that it would be a complex theme. We were thrilled when Pulitizer Prize-winning author Isabel Wilkerson agreed to be our keynote speaker since her books are both complex and provocative. She has influenced the way so many of us think about race and identity in this country. As she said in her remarks, "This isn't an abstraction, this isn't theory. This is life and death." 
Vence Bonham Jr., JD and his lab provided a perfect follow up to the discussion with Ms. Wilkerson, bringing to the center the very real, important and proactive steps that you are taking to create an anti-racist scientific lab. "Building a diverse team doesn't stop at increasing representation, it starts there," said Acting Deputy Director Bonham, who then stepped aside as the rest of his team shared their experiences. It was great to hear the perspectives of the team members and the honest dialogue they are generating. 
Our panel members– Rachel Grob, PhD, MA; Brendaly Rodriguez, MA, CPH and Sherrie Flynt  Wallington, PhD– gave us an in depth discussion of the impact that issues related to identity have on their work and research, emphasizing the work that they are doing in diverse areas and settings to advance health equity. One part that particularly resonated was the conversation around seeing people in communities not as test subjects but as people with expertise and a voice. As Dr. Flynt declared, "I don't want to do research within a community. I want to do research WITH a community."
Adrienne Moore, both in her video and her podcast, shared a powerful personal perspective on the very real ways in which identity, whether as an uninsured patient or a Black women, can determine access to and the quality of health care.
Nicole Caston, MPH, delivered an excellent presentation about her work with PAF featuring data on the challenges that under-resourced cancer patients face when they seek care.
Kellan Baker and Reggie Tucker-Seeley provided a critically important contributions to thinking about and planning this Policy Consortium and offered a compelling call to action about how we can take what we learn and turn it into effective action.
Finally, we want to recognize participants in our 6th season of Advocates in Action podcasts. The excellent audiograms from Katie Cueva and Zinzi Bailey that we played during the Policy Consortium are a small sample of the strong statements our podcast guests have made to this effort. 
We encourage you to listen to all our podcasts and we very much look forward to continue to work with each of you on the hard work achieving health equity for everyone. As Gwen Darien said in her introduction, social justice can not prevail where conscious or unconscious discrimination is allowed to reside unchallenged. We challenge ourselves and each of you going forward to consider where injustices may be unrecognized, particularly within our health care system, and heed the call to radical empathy. 
For the full event, along with highlights from our other projects and past Policy Consortia, please visit our YouTube channel.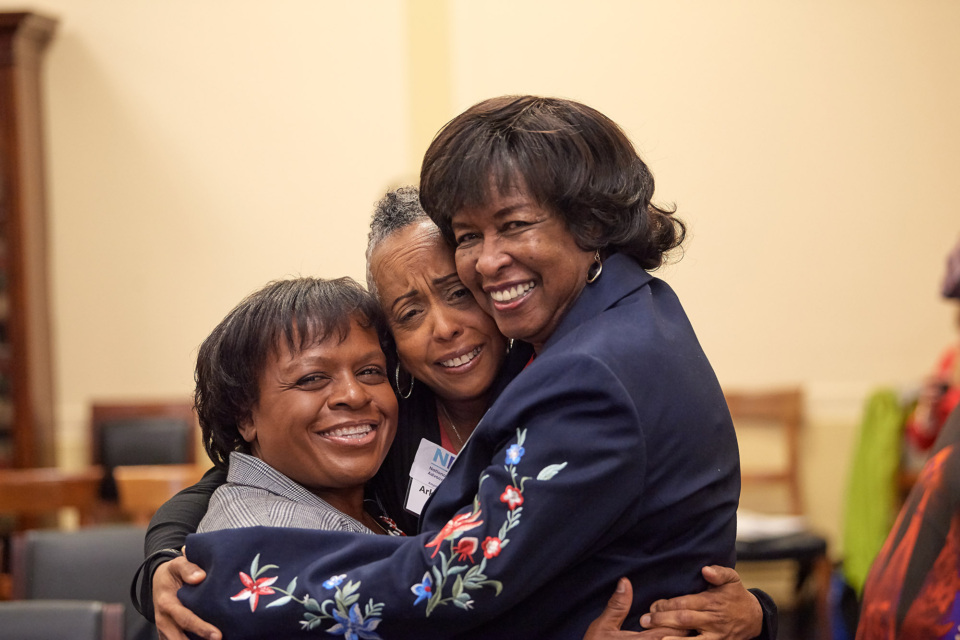 Story Slam: Stories About Trust
Come support our story-tellers as they bring you on their patient journey, with a focus on stories about trust.